What is a Degenerative Disc Disease?
Well, first and foremost, it is not a disease but a condition that takes place as the person grows older. The transition to late adulthood can cause physical and physiological changes in the body and degenerative disc disease is one of them.
Degenerative Disc disease ICD 10 –

M51.36
It is the wear and tear on the spinal disc causing pain secondary to aging.
What causes degenerative disc disease?
The pain caused by degenerative disc disease is attributed to these factors:
Inflammation 
As the cervical disc goes through a degenerative process, the inflammatory protein leaks out causing an inflammatory response to the surrounding structures. It is the one responsible for tenderness at the back and neck, muscle spasm, and muscle tension.
Abnormal micro-motion instability 
The disc provides cushioning and support but as the person grows older, the disc's outer layer degenerates leading to unnatural motions in the vertebrae. As a result, it causes tension and irritation to the surrounding muscles causing moderate pain that eventually gets severe as time passes by. (1, 2, 3)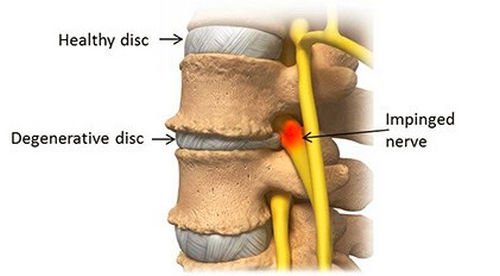 Image 1: An image outlining the difference between a healthy disc and a degenerative disc.
Picture Source: i1.wp.com
Picture 2: A degenerative disc compared with other disc-related conditions.
Photo Source: www.njsms.net
Symptoms
Pain, especially when performing physical activities that requires bending and twisting of the spine.
Pain can also be felt when lifting heavy objects
Muscle spasm
A feeling of "giving out" secondary to spinal instability
Sharp, stabbing pain that radiates to the shoulders, arms, and hands.
In rare instances, the pain can also be felt in the lower extremities, especially the buttocks, hips, and lower leg.
Pain when sitting or standing for a long period of time (3, 4, 5)
Diagnosis
Medical history taking – the patient's past medical and surgical history will be reviewed to find out the possible causes of pain, aside from the degeneration of the body. The doctor will assess the type, onset, and severity of pain.
Physical examination – The spine and the surrounding structures will be checked for any abnormalities. It is done through palpation and range of motion test.
Imaging studies – To confirm the diagnosis of degenerative disc disease, imaging test needs to be performed such as MRI scan. It can detect a herniated disc, fissures in the disc, and disc dehydration. (4, 5, 6)
Photo 3: A closer look at a disc that underwent a spinal fusion surgery.
Image Source: i.pinimg.com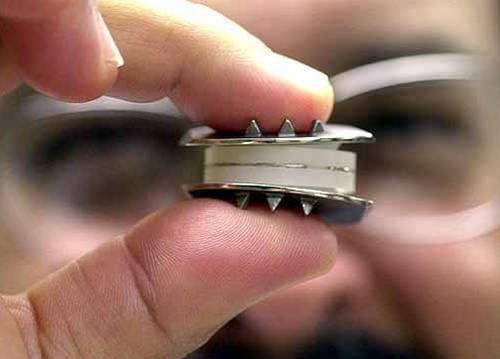 Image 4: An artificial disc used in artificial disc replacement surgery.
Picture Source: worldonline.media.clients.ellingtoncms.com
Treatment
The focus is on pain management. The doctor will use various treatment modalities to reduce the pain and improve the patient's mobility. Treatment for patient with degenerative disc disease is categorized into the following:
Cold Compress – When at home, the pain can be reduced significantly by applying cold compress on the painful part of the spine.
Hot compress – With the use of a heating pad, the tissues that surround the spine will be relaxed. It also eases muscle tension and spasm. If you don't have a heating pad, you can use an adhesive wrap and a warm bath, especially before going to bed.
Medications – The doctor will prescribe pain relievers and anti-inflammatories to significantly reduce the pain and inflammation. For mild to moderate pain, an over the counter pain relievers and anti-inflammatories will do. However, for severe pain, a higher type and dose of drugs are needed which will require doctor's prescription. Prescription pain medications should be used as per the doctor's recommendation. Do not use it for a long period of time as it could cause addiction.
Transcutaneous electrical nerve stimulation (TENS) – It is a device that alleviates pain by sending an electric pulses through the body.
Manual manipulation – A spine specialist (chiropractor) will manually adjust the spine so as to relieve pain and muscle tension. It removes nerve root pressure thereby relieving the pain and tension.
Epidural steroid injections – The outer protective layer of the spine is injected with a steroid so as to alleviate the pain. However, epidural steroid injections will only provide temporary relief.
Physical therapy
There are degenerative disc disease exercises that can reduce the pain and prevent its recurrence. These include the following:
Simple stretching – Stretch the muscles in the spine including the neck, shoulders, and upper back. Stretching the pelvis, hips, and lower back can also improve spinal pain.
Strengthening exercise – It is done to strengthen the muscles that support the spine. Eventually, it helps reduce pain and tension.
Aerobic exercise – It improves the circulation of blood and keep the muscles and joints in good shape. For people with severe pain, a low impact aerobic exercise should be performed such as water aerobics and a few minutes in the stationary bike.
Lifestyle modification
A person who is positively diagnosed with a degenerative disc disease should lead a healthy lifestyle. Avoid things that can further compromise your health such as smoking and drinking alcoholic beverages. Make it a habit to perform at least a few minutes of the exercise mentioned above.
You should use ergonomic furniture to prevent pain and avoid further complications.
Surgery
The surgery should be the last resort and it should only be done if all above mentioned strategies fail. Surgical procedures include:
Spinal fusion – the two adjacent vertebrae are grafted together to eliminate instability and reduce pain to a greater extent. It is done under a general anesthesia.
Artificial disc replacement surgery – A device is implanted in the spine to act as a natural support to the spinal disc. Just like the spinal fusion surgery, artificial disc replacement surgery is done under general anesthesia. The disc is made from metal or plastic.
Prevention
There is no way to prevent degenerative disc disease because it is a part of the aging process and every person ages with time whether you like it or not. However, with a healthy lifestyle, mild exercise, and nutrition, you can delay the onset of degenerative disc disease. (6, 7, 8, 9, 10)
What is the prognosis?
People with degenerative disc disease have a good prognosis as long as the above-mentioned practices are followed. Pain management is important but with lifestyle modification, the pain can be reduced to a greater extent.
References:
https://www.spine-health.com/conditions/degenerative-disc-disease/what-degenerative-disc-disease
https://www.webmd.com/back-pain/degenerative-disk-disease-overview
https://www.medicinenet.com/degenerative_disc/article.htm
https://www.cedars-sinai.org/health-library/diseases-and-conditions/d/degenerative-disc-disease.html
https://en.wikipedia.org/wiki/Degenerative_disc_disease
https://www.medicalnewstoday.com/articles/266630.php
https://www.laserspineinstitute.com/back_problems/degenerative_disc_disease/
https://www.arthritis.org/about-arthritis/types/degenerative-disc-disease/
http://columbiaspine.org/condition/degenerative-disc-disease/
https://www.mayfieldclinic.com/PE-DDD.htm