Definition
Capillaritis is a very common and harmless skin disease that causes red or brown patches on the skin. The condition is also known as pigmented purpura. Although it is not harmful; the condition can cause an individual a lot of embarrassment and insecurity.
The condition changes the way a person looks.
Capillaritis affect the legs most of the time, but they can appear on the upper body too.  Anyone can get this skin disorder, but it is mostly common in individuals who spend long hours standing. It can get anyone regardless of their gender, age or race. The condition is rare in young kids and popular among adults.
Capillaries are tiny blood vessels that are close to the skin. Sometimes, these blood vessels get inflamed for  reasons that are still unknown. When this happens, blood cells escape through the small gaps that arise between the cells, resulting in the red patches. There are different types of capillaritis.[1,2,3]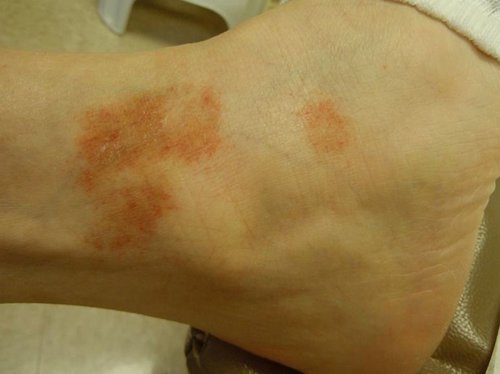 Picture 1: Capillaritis on the lower leg
Image source: healthool.com
Capillaritis Symptoms
Because there are several types of this skin disorder, the symptoms are different too. The most common symptom is the color of the lesion. Here are some of the symptoms:
People who have dark skin have deeply pigmented lesions that look like pepper petechiae and sometimes red-brown in color.
For people with a light complexion, the lesion will be cayenne pepper colored.
Petechiae are actually pin point like hemorrhages. An individual will experience color variations in the affected area depending on the stage of the hemosiderin.  Some people with the condition complain of having some burning, itching, and inflammation.There is a group that doesn't get any symptoms apart from the lesions that are non-blanching. [1,5,6]

Picture 2 : Capillaritis can appear on the upper part of the body too.
Image Source : healthool.com
Capillaritis Clinical Features
There are different types of capillaritis. Most of them are given the name of the person who made the discovery.
Schamberg disease: this is also known as progressive pigmented purpura. This type of capillaritis is the one of the most common capillaritis.  The patient will identify red-brown patches that have cayenne pepper spots especially on the borders without any cause. This condition is common in the legs and upper parts in the body. Most of the time, it is distributed on the both sides, and the patient doesn't experience any other signs
Itching purpura: This type of capillaritis is same as the Schamberg disease; however, it causes itchiness on the affected areas
Gougerot-Blum: this type is also known as pigmented purpuric lichenoid dermatosis. Although this type of capillaritis is rare, people who have it experience patches that are thick and itchy.
Majocchi's purpura, known as purpura annular is telangiectodes too is a type of capillaritis where a patient gets dilated capillaries, brown patches, and some cayenne spots.  With time, the spots spread to other places.
Contact allergy: this type of skin allergy is as a result of khaki clothing dye and sometimes rubber.  The place that comes close to the material gets affected.
Lichen aureus: this is actually a solitary yellow-brown patch, and it has been proven to be very persistent.
Exercise-induced capillaritis: some people develop this condition after prolonged and vigorous exercise. The red spots will most likely form at individual's ankles, and it is common during the warm weather.  After forming, the spots change color to brown, and in a short duration, they disappear entirely. Patients with this condition complain of some burning sensation.[4,5,7]
Causes of Capillaritis
Research shows that capillaritis are caused by leakage of the small blood vessels known as capillaries, but in some cases, the exact cause is not known.  Here are some of the most common causes of this skin condition:
Some people are sensitive to particular food and even environment contaminants. After eating these foods or getting into contact with the contaminants, these people get the patches.
Some viral infections can result to capillaritis.
Using medications like non-steroidal anti-inflammatory medicines such as aspirin, ibuprofen or Tylenol can trigger the condition.
Skin hypersensitivity can trigger the condition too.
Excess physical exercise is a common cause of this condition. The patient will most likely get the patches on the legs and ankles after the exercise.[1,8]
Treatment
At the moment, there is no known cure for this condition. Most people do not actually treat capillaritis. This is because the patches disappear on their own. However, these spots can be annoying and cause a lot of embarrassment to the person affected.  Here are some tips to help get rid of them:
A healthy diet is vital if someone wants to maintain beautiful skin.  People with capillaritis can get rid of the patches by eating a healthy diet and drinking plenty of water. The patients should try to avoid foods with a lot of preservatives and artificial food coloring agents. These agents have been proven to worsen the condition.
There are some topical steroid creams on the market to help get rid of the itchiness. However, before buying yourself one, it is vital to consult your dermatologist. A bad cream can worsen the situation. These creams will help manage the itchiness but will not cure the condition.
Some symptoms of the disease can be effectively controlled by over the counter medication.  If the condition is causing itchiness, the patient can buy an ointment over the counter to manage it.
Capillaritis usually affect the legs so the patient can wear some compression stocking.  This way, they will be able to manage some of the symptoms they are experiencing.
If the cause of the capillaritis is allergies or food sensitivities, the patient is supposed to eliminate the diet at all costs.
When you notice that the prescription medicine you are using is causing the breakout, it is advisable to stop it before it causes more damage to the skin.
Laser treatment is also available, but many people say that it doesn't help this condition a lot. [1,9]
References:
Dermnetnz.org. Capillaritis (pigmented purpura). DermNet NZ [Internet]. 2016 [cited 18 January 2016]. Available from: http://www.dermnetnz.org/vascular/capillaritis.html
Pcds.org.uk. Pigmented purpuric dermatoses (syn. capillaritis) [Internet]. 2016 [cited 18 January 2016]. Available from: http://www.pcds.org.uk/clinical-guidance/capillaritis
Skinsight.com. Capillaritis in Adults: Condition, Treatment and Pictures – Overview | skinsight [Internet]. 2016 [cited 18 January 2016]. Available from: http://www.skinsight.com/adult/capillaritis.htm
Healthool.com. Capillaritis – Pictures, Symptoms, Causes, Treatment [Internet]. 2016 [cited 18 January 2016]. Available from: http://healthool.com/capillaritis
[Internet]. 2016 [cited 18 January 2016]. Available from: http://www.sydneyskinandvein.com
Diet-and-health.net. Capillary Fragility Purpura – Capillary Fragility Purpura – Capillaritis – Diet and Health.net [Internet]. 2016 [cited 18 January 2016]. Available from: http://www.diet-and-health.net/Diseases/CapillaryFragility.html
Centralfloridaderm.com. Cosmetic Dermatology | BOTOX | Laser Hair Removal | Orlando | Kissimmee [Internet]. 2016 [cited 18 January 2016]. Available from: http://www.centralfloridaderm.com
Emedicine.medscape.com. Diseases & Conditions – Medscape Reference [Internet]. 2016 [cited 18 January 2016]. Available from: http://emedicine.medscape.com
Patient. Symptom Checker, Health Information and Medicines Guide | Patient [Internet]. 2016 [cited 18 January 2016]. Available from: http://patient.info
Onlinedermclinic.com. Online Dermatologist Consult & Skin Problem Diagnosis-OnlineDermClinic.com [Internet]. 2016 [cited 18 January 2016]. Available from: https://www.onlinedermclinic.com